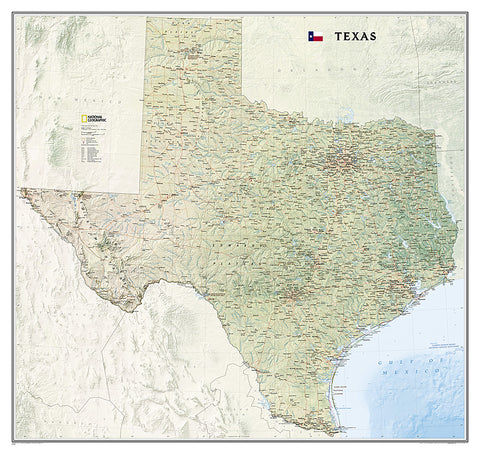 Map of TEXAS National Geographic Classic Edition 38x40 Wall Map Poster - NG Maps
Publisher: NG Maps
Size: 38.5" x 40.75"
Condition: Brand New, Stored Flat, No Folds, Shipped Rolled in Protective Mail-Safe Tube.

Item #: NG-RE01020408
---
---
Bring your wall alive with the world's gold standard of wall maps! Take a trip to the Lone Star State with this absolutely incredible Classic Edition Map of the Great State of Texas, from the greatest cartographers on the globe, National Geographic. From the map collection you've seen in classrooms, libraries, offices, coffee shops, and other public places all your life - now own one for yourself.
National Geographic's wall map of Texas brings the rich and diverse topography of the state to life in elegant detail. Mountain ranges, prominent peaks, major lakes, rivers, and reservoirs, and other geographic features are highlighted. In addition to hundreds of place names, this map includes the precise locations of cities, major roadways and railways, airports, military bases, and national and state parks. Stunning shaded relief and vibrant colorization distinguishes mountain ranges, forests, deserts, valleys, and other physical topography including a portion of the Gulf of Mexico. The Texas portion of the Intracoastal Waterway is shown from Brownsville to the Louisiana border.
This 38.5" x 40.75" edition is the perfect size - not too big, not too small - ideal for any wall of your choosing. Every lover of Texas can use this piece as an accent to home, office, classroom, library, or other public facility. Make this yours!
Shop for more related posters in these collections:
---
We Also Recommend