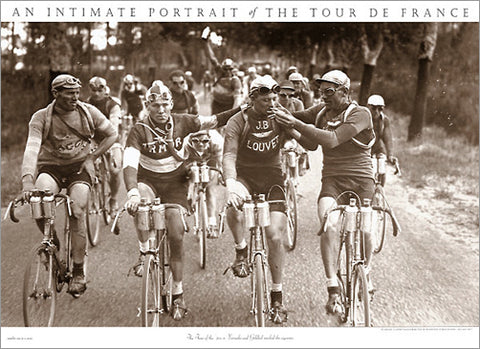 Vintage Tour de France "Smokers" 1920s Cycling Classic Poster - Presse 'e Sports
Publisher: Presse 'e Sports
Size: 22" x 30"
Condition: Brand-new. Printed on premium-quality gallery stock.

Item #: BP-08
---
---
AN INTIMATE PORTRAIT OF THE TOUR DE FRANCE
The Tour of the '20s - Vervaeke and Geldhol smoked the cigarette
number one in a series
Yes, the Tour de France was much, much different then...and the difference is very clear in this incredible print! From a vintage photographic image taken sometime in the 1920s, you see not only two front-runners sharing a smoke, but you get an amazingly detailed look at the equipment used and the athletes competing early in the 20th Century. A classy, artistic, historic, and cheeky addition to the wall of any cycling enthusiast, and one of our all-time best-selling prints!
Shop for more related posters in these collections:
---
We Also Recommend