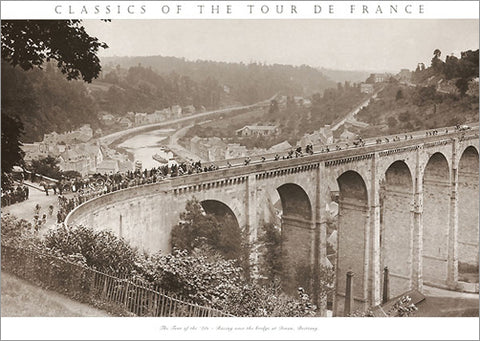 Vintage Classics of the Tour de France "Bridge at Dinan" 1920s Cycling Poster Print - Presse 'e Sport
Publisher: Presse 'e Sports
Size: 22" x 30"
Condition: Brand-new! Printed on premium-quality gallery stock.

Item #: BP-05
---
---
CLASSICS OF THE TOUR DE FRANCE
Racing over the bridge at Dinan, Brittany
number nine in a series
Breathtaking! From the popular Vintage Tour de France series comes this print, featuring a pack of racers crossing a spectacular medieval bridge over the Rance River in North Eastern France in the 1920s. A beautiful vintage feel, and a priceless glimpse at cycling in a simpler era. A classy, artistic addition to the wall of any cycling enthusiast - a vintage photographic masterpiece!
Shop for more related posters in these collections:
---
We Also Recommend