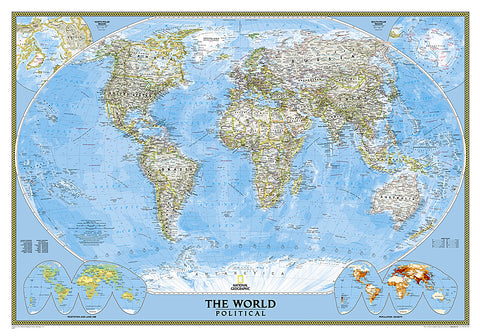 Map of the World National Geographic Classic Edition 30x43 Wall Map Poster - NG Maps
Publisher: NG Maps
Size: 30.5" x 43.5"
Condition: Brand New, Stored Flat, No Folds, Shipped Rolled in Protective Mail-Safe Tube.

Item #: NG-RE00622005
---
---
Bring your wall alive with the world's gold standard of wall maps! This is the legendary World Political Map from the greatest cartographers on the globe, National Geographic. This is the World Map you've seen in classrooms, libraries, offices, coffee shops, and other public places all your life - now own one for yourself.
The signature Classic style map uses a bright, easy to read color palette featuring blue oceans and stunning shaded relief that has been featured on National Geographic wall maps for over 75 years. Drawn in the Winkel Tripel projection, distortions are minimized and unlike many other World maps (Greenland is show the same size as Argentina and not as the size of all of South America.)
Thousands of place names are carefully and artistically placed on the map to maintain legibility even in the heavily populated areas of Europe, Asia and the Middle East. Details include clearly defined international boundaries, cities, physical features, rivers, and ocean floor features. Corner inset maps feature vegetation and land use, and population density as well as the north and south polar regions.
This 30.5" x 43.5" edition is the perfect size - not too big, not too small - ideal for any wall of your choosing. Every home, office, classroom, library, or other public facility, can use a wall map of the world. Make this yours!
Shop for more related posters in these collections:
---
We Also Recommend