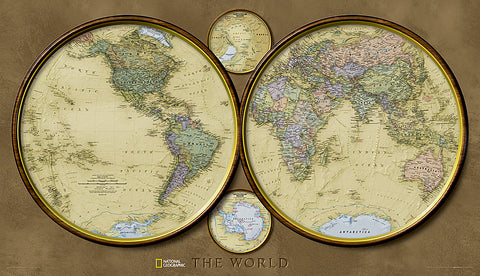 Map of the World "Hemispheres" Retro 1940s Style National Geographic 25x43 Wall Map Poster - NG Maps 2010
Publisher: NG Maps
Size: 24.5" x 42.75"
Condition: Brand New, Stored Flat, No Folds, Shipped Rolled in Protective Mail-Safe Tube.

Item #: NG-RE00620547
---
---
Bring your wall alive with a world wall map classic! This is the historic "Hemispheres"-style world wall map, designed in the 1930s and used regularly through the 1940s by the greatest cartographers on the globe, National Geographic. Perhaps you've seen an original 1940s world map on a wall somewhere and asked yourself, how can I get one of those? Now you know - order one here for yourself! Featuring that classic retro style, but with all the modern updates (circa 2010), this one has it all - good for education, reference, and decorative style. 
This 24.5" x 42.75" edition is the perfect size - not too big, not too small - ideal for any wall of your choosing. Every home, office, classroom, library, or other public facility, can use a wall map of the world. Make this yours!
Shop for more related posters in these collections:
---
We Also Recommend