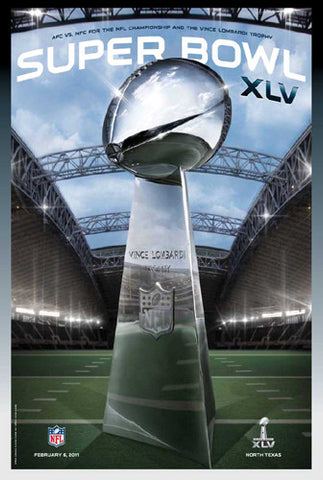 Super Bowl XLV (Dallas 2011) Official Theme Art Event Poster - Action Images Inc.
Publisher: Action Images Inc., released August 2010
Size: 24" x 36"
Condition: Brand New!

Item #: AI160
---
---
AFC vs. NFC for the NFL Championship and the Vince Lombardi Trophy
SUPER BOWL XLV
Sunday, February 6, 2011 - North Texas
The Super Bowl arrives at the NFL's Mecca - Cowboys Stadium in Dallas, one of the most spectacular sporting arenas in the world! This is the official commemorative event poster for Super Bowl XLV, the 45th edition of an American sporting classic, and the fourth Super Bowl championship for the Green Bay Packers. Featuring the legendary Vince Lombardi trophy from a field-level perspective that shows off the unique architecture of the new-for-2009 home of the Dallas Cowboys, this is one of the simplest, and most attractive, theme art designs in years. Both a beautiful work of sports art, and a great collector's item for years to come! Whether you are a North Texas native, a Super Bowl collector, or simply a football fanatic with an empty place on your wall, this is for you. Limited quantity remains in stock.
Shop for more related posters in these collections:
---
We Also Recommend