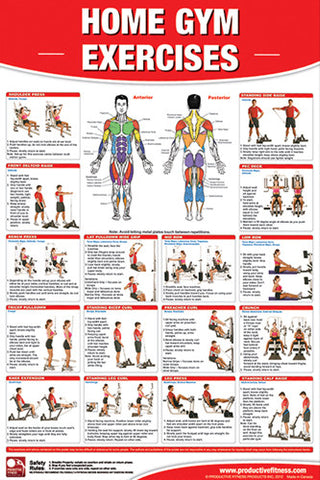 Home Gym Exercises Wall Chart (Universal Equipment) Poster - Productive Fitness
Publisher: Productive Fitness Products Inc.
Size: 24" x 36"
Condition: Brand New!

Item #: PFP-CHGPE
---
---
A must for any gym with a set of universal equipment! This amazing instructional chart features no less than 16 exercises using the typical weight-pulley-and-resistance equipment found at most home and public fitness centers. Professionally designed with an attractive vertical layout, amazing real-life workout photographs, anatomical muscle system diagrams, and perfect step-by-step instructions for each exercise, this is both a beauty for the wall, and an invaluable guide to a healthier body! Exercises Included: Shoulder Press, Standing Side Raise, Front Deltoid Raise, Pec Deck, Bench Press, Lat Pulldown Wide Grip, Mid Row, Low Row, Tricep Pulldown, Standing Bicep Curl, Preacher Curl, Crunch, Knee Extension, Standing Leg Curl, Leg Press, Standing Calf Raise.
Shop for more related posters in these collections:
---
We Also Recommend