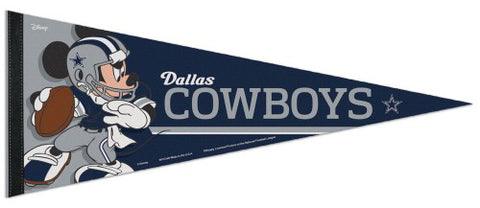 Dallas Cowboys "Mickey Mouse QB Gunslinger" Official NFL/Disney Premium Felt Pennant - Wincraft Inc.
Publisher: Wincraft Inc., Made in USA!
Size: 12" x 30" Triangular Felt Pennant
Condition: Brand New! Durable "Roll-it-and-Go" Felt Fabric.

Item #: WI-PP-1671
---
---
Own a rare and beautiful collector's item, celebrating a truly delightful Cowboys gunslinger! This brilliant pennant, from Wincraft Inc.'s limited-edition Disney Sports series, places none other than the most famous cartoon mouse in history, Mickey Mouse, displaying his best Quarterback form as he looks downfield to his receiver (perhaps Goofy?) as a member of the Dallas Cowboys. With awesome Mickey cartoon art, and great team-themed graphics, this is both a beauty for your wall, and a valuable collector's item for years to come. Part of WinCraft's premium pennant line, the clear and brilliant photography and graphics are printed on a revolutionary soft-and-durable "Roll-it-and-Go" felt that can be tucked tightly away if necessary, and look just as good when unfurled again, ensuring your pennant will continue to look great and last a lifetime. A must-have addition to the wall of any fan, and a valuable collector's item that won't last long!
Shop for more related posters in these collections:
---
We Also Recommend