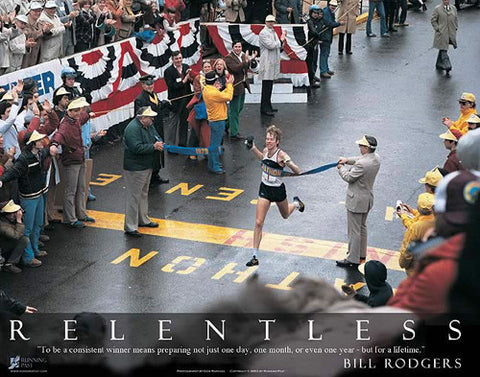 Bill Rodgers "Relentless" 1979 Boston Marathon Finish Premium Poster - Running Past
Publisher: Running Past
Size: 24" x 30"
Condition: Brand New! Printed on premium-quality gallery stock.

Item #: RP003
---
---
"To be a consistent winner means preparing not just one day, one month, or even one year - but for a lifetime."
Bill Rodgers
With relentless work and unbridled passion, Bill Rodgers has lived the life that every other New England runner has only dreamed about. Born in Hartford, Connecticut, hometown favorite Rodgers won the Boston Marathon four times (1975, 1978, 1979, 1980)! He was King of the Roads in the 1970s and early 1980s, also taking four New York Marathons, and even the vaunted Fukuoka Marathon in Japan. A charter inductee to the National Distance Running Hall of Fame, Bill is considered one of the top distance runners of all-time!
This poster features the pinnacle moment in Rodgers' career - breaking the tape at the 1979 Boston Marathon. Running stride-for-stride with Japan's Toshihiko Seko, Bill taught his young pupil a lesson, and on a downhill grade in Newton, he blazed away to an uncontested finish. The photograph used in this poster is an absolute classic, with the pinnacle moment in Rodgers' career captured to perfection. As a piece of history, and as a motivational tool, this is the ultimate item for your wall! Perfect for home, office, fieldhouse or coach's quarters.
Shop for more related posters in these collections:
---
We Also Recommend