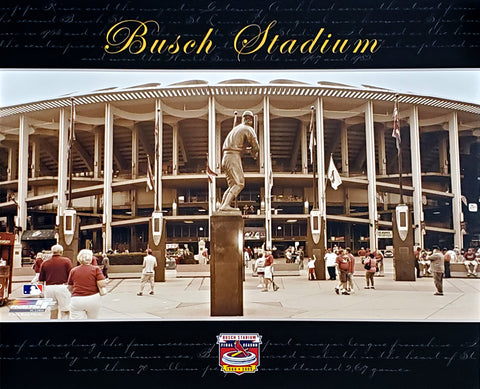 Old Busch Stadium St. Louis Cardinals Commemorative (Stadium Plaza w/Musial Statue) Premium Poster Print - Photofile
Publisher: Photofile Inc.
Size: 20" x 24"
Condition: Brand-New. Printed on premium-quality matte photographic stock.

Item #: PF-L194
---
---
For those of you with a lifetime of memories from old Busch Stadium, this print is for you! Published to commemorate the end of the road for the old round ballpark, it features classic "Busch Stadium" script, the official "Final Season 1966-2005", and a point-of-view that any visitor to the park remembers well: the approach to the main entrance, where Stan Musial's "Stan the Man" statue ensured an aura of class, dignity, and greatness surrounded the proud arch-ringed baseball palace. Published in poster size exclusively for SportsPosterWarehouse.com, this unique, historic poster is perfect for a nice frame and a prominent place on the wall of any long-time St. Louis baseball fan!
Shop for more related posters in these collections:
---
We Also Recommend