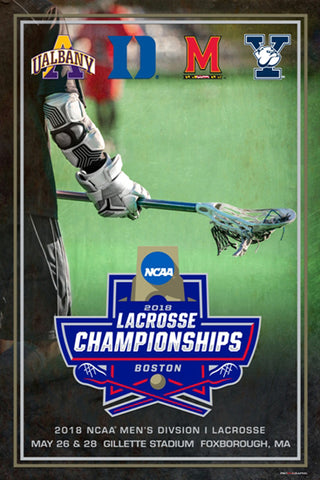 NCAA Lacrosse Championships 2018 Official Event Poster (Yale, Albany, Duke, Maryland) - ProGraphs Inc.
Publisher: ProGraphs Inc.
Size: 24" x 36"
Condition: Brand New!

Item #: PG-065
---
---
ALBANY - DUKE - MARYLAND - YALE
2018 NCAA LACROSSE CHAMPIONSHIPS - BOSTON
2018 NCAA Men's Division I Lacrosse
MAY 26 & 28 - Gillette Stadium, Foxborough, MA
Celebrate the thrill and excitement of the greatest sport on turf, and its premiere event! This spectacular piece is the official commemorative poster for the 2018 NCAA Lacrosse Championship weekend, featuring the official tournament logo and info, spectacular game action artwork, and the athletic logos for the four teams in competition: University of Albany Great Danes, Duke Blue Devils, Maryland Terrapins, and the eventual champions, the Yale Bulldogs. Always a sellout on tournament weekend, and limited to a tiny print run this year, we were able to obtain a small quantity of this poster direct from the publisher, and are making it available on a first-come, first-served basis. Whether you are a fan or alumni of any of these schools, or a lover of Lacrosse in general, don't miss out on this opportunity - grab yours now while you still can!
Shop for more related posters in these collections:
---
We Also Recommend