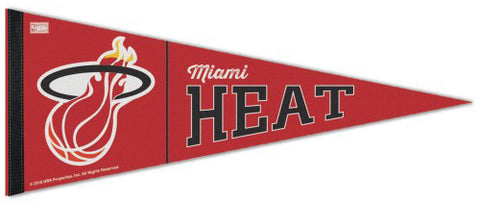 Miami Heat NBA Retro 1990s-Style Premium Felt Collector's Pennant - Wincraft Inc.
Publisher: WinCraft Inc., Made in USA!
Size: 12" x 30" Triangular Felt Pennant
Condition: Brand New! Durable "Roll-it-and-Go" Felt Fabric.

Item #: WI-PP-1577
---
---
Bring your wall alive with classic old-school Heat style! This brilliant pennant celebrates Miami's amazing NBA basketball team with legendary Hardwood Classics style and flair. Featuring the official team logo used from the inaugural season of 1988-89 through the 1998-99 season, along with retro fonts, atop a sharp team-colored design, this is a true beauty for your collection. Part of WinCraft's premium pennant line, the amazing graphics are printed in full-color on a revolutionary soft-and-durable "Roll-it-and-Go" felt that can be tucked tightly away if necessary, and look just as good when unfurled again, ensuring your pennant will continue to look great and last a lifetime. The perfect accent to your sports wall-of-fame, and a must for any serious Miami basketball fan!
Shop for more related posters in these collections:
---
We Also Recommend