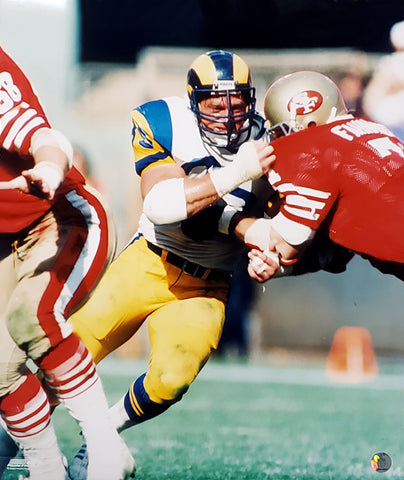 Jack Youngblood "L.A. Rams Classic" (c.1979) Premium Poster Print - Photofile Inc.
Publisher: Photofile Inc.
Size: 20" x 24"
Condition: Brand New! Printed on premium-quality photographic stock.

Item #: PF-L186
---
---
First-round draft pick...7-time Pro Bowler...5-time All-Pro...14-year ironman career with one team only, missing only a single game...finally inducted into the Hall of Fame in 2001...the face of the Los Angeles Rams for a generation, Jack Youngblood! This spectacular, vintage classic reprint features the legendary Defensive End in action during the prime of his career, tussling with long-time rival Keith Fahnhorst in the never-ending battle at the line of scrimmage.
This beautiful poster, published exclusively for SportsPosterWarehouse.com, features a brilliant, long-lost photographic image of the amazing man who played Super Bowl XIV on a broken leg. For old-school Rams fans, this is a true classic for your wall, worthy of a nice frame and a prominent place in your home or office! Printed from the original photographic source, and complete with official NFL Properties serialized hologram, this is both a stunning piece for any fan, and a great collector's item for years to come.
Shop for more related posters in these collections:
---
We Also Recommend