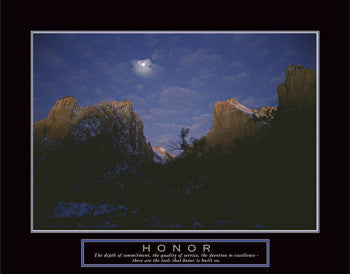 Full Moon over Zion Canyon "Honor" Motivational Poster - Front Line
Publisher: Front Line Art Publishing
Size: 22" x 28"
Condition: Brand New!

Item #: F102296
---
---
HONOR
The depth of commitment, the quality of service, the devotion to excellence - these are the tools that honor is built on.
Celebrate that extra intangible that gives any endeavor its soul - performing with honor! This spectacular poster features a great motivational message, enhanced by an absolutely breathtaking photographic image of a full moon over Zion Canyon National Park in Utah. Amazing inspiration, awesome photography - perfect for nature lovers, and for the wall of home or office!
Shop for more related posters in these collections:
---
We Also Recommend