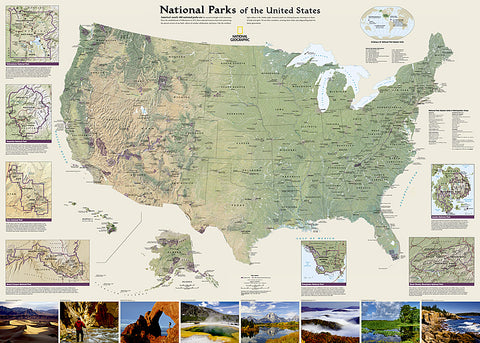 National Parks of the United States National Geographic 30x42 Wall Map Poster - NG Maps
Publisher: NG Maps
Size: 30" x 42"
Condition: Brand New, Stored Flat, No Folds, Shipped Rolled in Protective Mail-Safe Tube.

Item #: NG-RE01020599
---
---
Bring your wall alive with the world's gold standard of wall maps! Take a trip to the great outdoors, and the glorious natural wonders contained in America's National Parks, from the greatest cartographers on the globe, National Geographic. From the map collection you've seen in classrooms, libraries, offices, coffee shops, and other public places all your life - now own one for yourself.
National Geographic's wall map of National Parks of the United States highlights the nearly 400 magnificent parks across America. The country is represented in subtle earth-tones with shaded mountain relief and intricately drawn river systems. Photos capture some of the diverse landscapes preserved and protected by the national park system. Separate inset maps provide detail and descriptions of seven of the parks. Includes Yellowstone, Yosemite, Acadia, Grand Canyon, Great Smoky Mountains, Everglades, and Zion. Includes insets of the Yellowstone, Yosemite, Acadia, Denali, Grand Canyon, Great Sand Dune, Great Smoky Mountains, Everglades, Joshua Tree, Rocky Mountain, Zion National Park, and more; an inset world map showing outlying U.S. National Parks; and a list of parks near metropolitan areas.
This 30" x 42" edition is the perfect size - not too big, not too small - ideal for any wall of your choosing. Every lover of America's wondrous landscape can use this piece as an accent to home, office, cottage, classroom, library, or other public facility. Make this yours!
Shop for more related posters in these collections:
---
We Also Recommend