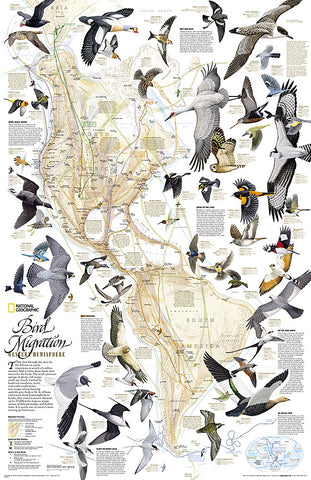 Bird Migration of the Western Hemisphere National Geographic 20x31 Wall Map Poster - NG Maps
Publisher: NG Maps
Size: 20.25" x 31.25"
Condition: Brand New, Stored Flat, No Folds, Shipped Rolled in Protective Mail-Safe Tube.

Item #: NG-RE01020304
---
---
Bring your wall alive with the world's gold standard of wall maps! Take a trip with our avian friends, high above land and sea, and enter the annual life of the birds of the Western Hemisphere, with this entry from the greatest cartographers on the globe, National Geographic. From the map collection you've seen in classrooms, libraries, offices, coffee shops, and other public places all your life - now own one for yourself!
This National Geographic classic shows the mystery of bird migration and the incredible journeys that birds undertake in the Americas each year. 67 types of birds that migrate are shown on a map of the Americas that is overlaid with pathways that show migration routes from nesting grounds to wintering areas. Full-color bird paintings by noted illustrator Arthur Singer show each of the 67 species, making it easy to identify birds as they fly their amazing journeys.
This 20" x 31" edition is the perfect size - not too big, not too small - ideal for any wall of your choosing. Every lover of America's historic Indian heritage can use this piece as an accent to home, office, cottage, classroom, library, or other public facility. Make this yours!
Shop for more related posters in these collections:
---
We Also Recommend