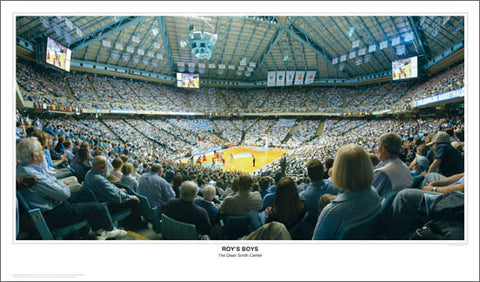 North Carolina Basketball "Roy's Boys" Dean Smith Center Panorama - Sport Photos Inc.
Publisher: Sport Photos Inc., released March 2006
Size: 19" x 32"
Condition: Brand-New. Printed on high-quality gallery stock.

Item #: SG-032
---
---
ROY'S BOYS
The Dean Smith Center
Step inside America's greatest basketball palace, home of the best program in the nation! Bathed in Tar Heel blue, the Dean Smith Center is a sight to behold on game night. This poster features a breathtaking corner view of the historic arena on February 4, 2006, when UNC laid out the Clemson Tigers for a 76-61 spanking. As forward Reyshawn Terry releases a free throw, trying to extend a second-half lead to 15...SNAP! The moment is preserved for all-time, and is now available for your wall. Whether you were there at the game that day, were watching the UNC-Clemson rivalry at home, or are simply a dedicated Tar Heels backer, this amazing poster is a must for your wall. From the countless banners in the rafters (including the National Championship banners from 1924, 1957, 1982, 1993 and 2005), to the video screens and scoreboards, to the fans in the stands, to the action on the court below, this print has it all! Don't miss your chance to add this beauty to your collection - these UNC panoramas never last long!
Shop for more related posters in these collections:
---
We Also Recommend