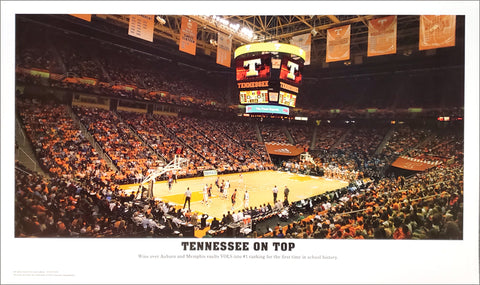 Tennessee Vols Basketball "Tennessee On Top" Thompson-Boling Arena Game Night Panoramic Poster - Sofa Galleria
Publisher: Sofa Galleria, released March 2008
Size: 19" x 32"
Condition: Brand-New! Printed on premium-quality gallery stock.

Item #: SG-070
---
---
TENNESSEE ON TOP
Wins over Auburn and Memphis vaults VOLS into #1 ranking for the first time in school history.
Step inside a sea of orange, and a historic night in Tennessee Volunteers basketball history! This amazing print features a breathtaking look at Thompson-Boling Arena during the Vols-Auburn Tigers matchup of February 20, 2008, when the hometown boys won their 30th straight home game, and headed off to Memphis with a chance to reach the highest of heights. As more than 25,000 fans thrill to a giant first half 42-18 lead...SNAP! The moment is preserved for all-time, and is now available for your wall. As you pan across the image, you can feel the energy, and see it all: the scoreboard, the banners hanging above (Sweet Sixteen appearances, Final Four appearances, SEC Championships), the massive orange-clad crowd in the stands, and the action on the floor, as Tyler Smith, Wayne Chism, JaJuan Smith, Chris Lofton, and the rest of the boys continue their domination Along with a sharp white border and a proud commemorative title, this is both a beauty for your wall, and a great collector's item for years to come. A must for any true Tennessee basketball fan, and a SportsPosterWarehouse.com exclusive, not available anywhere else! Limited quantity remains in stock.
Shop for more related posters in these collections:
---
We Also Recommend