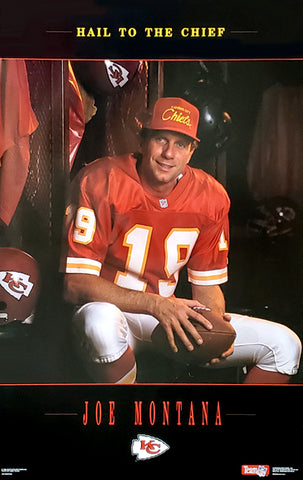 Joe Montana "Hail To The Chief" Kansas City Chiefs NFL Football Poster - Costacos Brothers 1993
Publisher: Costacos Brothers Inc., 1993
Size: 23" x 35"
Condition: Brand-New, Original Warehouse Stock!

Item #: MF116
---
---
Bring your wall alive with a true KC classic - Hail To The Chief! This amazing poster comes from the brilliant, fondly-remembered two-year run of the great Joe Montana with the Kansas City Chiefs in 1993 and 1994. Coming off one of the greatest 12-year runs in NFL history with the San Francisco 49ers (8 Pro Bowls, 2 MVP's, 4 Super Bowl Championships), many thought Joe's career was done due to injury and age when he signed with the Chiefs. Yet few will forget that magical 1993 season in which he roared like a lion into the AFC playoffs, took down the Steelers and Oilers, and was only stopped by the juggernaut Buffalo Bills on his quest to return to the Super Bowl. After another playoff appearance in 1994, Joe hung those spikes up forever, capping off a Hall of Fame career matched by few.
This amazing poster was published early in the '93 season, and features a classy photo shoot of the classy Montana, preparing for battle in his Chiefs locker, under the perfect title, "Hail to the Chief". We obtained a limited quantity of this poster in original, never-used, warehouse-preserved condition, and are making them available on a first-come, first-served basis. A beauty for the wall of any Chiefs or Montana fan, and a valuable collector's item for years to come!
Shop for more related posters in these collections:
---
We Also Recommend