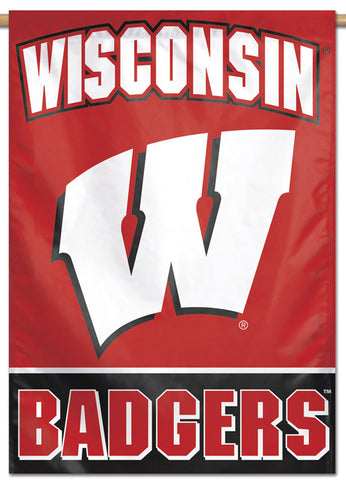 Wisconsin Badgers Official NCAA Team Logo Style NCAA Premium 28x40 Wall Banner - Wincraft Inc.
Publisher: Wincraft Inc.
Size: 28" x 40" Nylon Banner
Condition: Brand New!

Item #: WI-FL-126
---
---
Celebrate the greatness of a legendary NCAA program! This amazing banner, from Wincraft's official NCAA Athletics series, gives you the official University of Wisconsin colors, "W" logo, and script, printed boldly on quality polyester flag material, and complete with a 1.5" pole sleeve at the top. This is an innovative product that can be flown on a flagpole outside, hung on a curtain rod inside, or simply pinned to the wall like a poster. A bold, brilliant flag that will last for ages and fill that space on your wall or outside your home - the perfect tribute to Madison's amazing school!
Shop for more related posters in these collections:
---
We Also Recommend