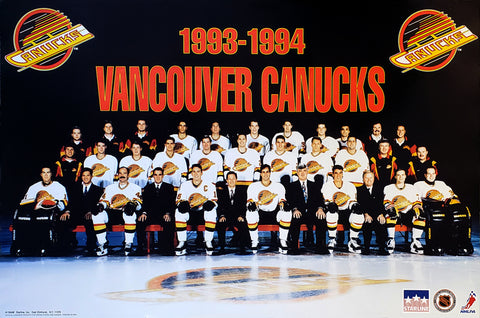 Vancouver Canucks 1993-94 Official NHL Hockey Team Poster - Starline Inc.
Publisher: Starline Inc., 1993
Size: 22¼" x 34½"
Condition: Brand-New

Item #: MH113
---
---
For Vancouver fans, there was nothing quite like that 1994 Stanley Cup run! Led by a group of hungry veterans, a never-say-die attitude, and a 60-goal scoring "Russian Rocket" named Pavel Bure, the Canucks season ended on June 14, 1994 with a 3-2 loss to the New York Rangers in Game 7. It was a heartbreaking loss, but the only blot on a season of brilliance.
This poster features all the great players from that team in the official portrait photo for the season, including: Kirk McLean, Pavel Bure, Trevor Linden, Dave Babych, Greg Adams, Shawn Antoski, Jeff Brown, Geoff Courtnall, Murray Craven, Gerald Diduck, Sergio Momesso, and Cliff Ronning. A must for the wall of any Canucks fan!
Shop for more related posters in these collections:
---
We Also Recommend