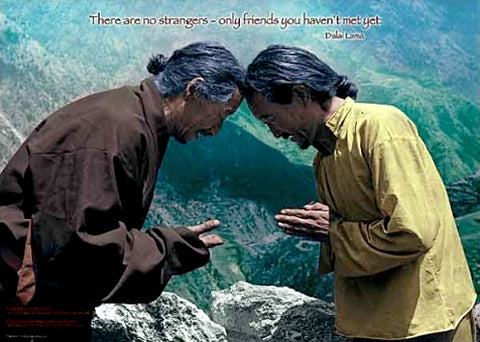 Tibetan Wisdom "There Are No Strangers" Dalai Lama Buddhist Inspirational Poster - Tushita Publishing
Publisher: Tushita GmbH, Germany
Size: 19.75" x 27.5"
Condition: Brand New! Printed on premium-quality gallery stock.

Item #: TUS-TIB1020
---
---
There are no strangers - only friends you haven't met yet. 
Dalai Lama

Inspire yourself with the wisdom of the master! This spectacular poster features two Tibetan mountain men greeting each other like perhaps all of us should - face-to-face, eye-to-eye, hand-to-hand, with humble minds and open hearts. With the words of The Dalai Lama enhancing the image in simple lettering over the glorious green mountain landscape, this is pure poster perfection! A classic poster that you've probably seen on the wall at a coffee shop, yoga center, or spiritual institution - here's your chance to finally bring one home.
Shop for more related posters in these collections:
---
We Also Recommend