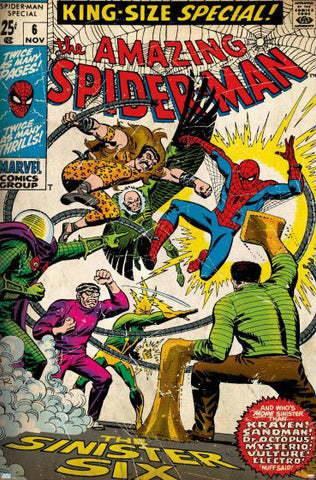 The Amazing Spider-Man Annual #6 (Nov. 1969) Marvel Comics Cover Reproduction POSTER - Trends
Publisher: Trends International Inc.
Size: 22.25" x 34"
Condition: Brand New!

Item #: CN18768-21
---
---
Celebrate the glorious heritage of America's most legendary, most patriotic, most creative comic book company! This poster takes you back to the glorious prime years of the Amazing Spikder-Man comic books, giving you a full-sized 22"x34" reproduction of the cover of the November 1969 "King-Size Special" #6. This book marked the historic formation of The Sinister Six, the gang of villains who tormented Peter Parker's superhero alter ego for decades (Kraven, Sandman, Dr. Octopus, Mysterio, Vulture and Electro). A true Marvel classic, this is the ultimate way to commemorate a historic era in the history of American graphic arts, and the perfect item for fans of vintage comic books. Reproduced with utmost care and quality from an original copy in the Marvel archives, this officially-licensed edition looks great on the wall, and will serve as a valuable collector's item for years to come. Perfect for a nice frame and a prominent place on the wall of home, office, classroom or art studio! Note: This premium-quality gallery edition is printed on heavy paper for enhanced attractiveness and durability. Limited quantity available, grab yours now.  
Shop for more related posters in these collections:
---
We Also Recommend