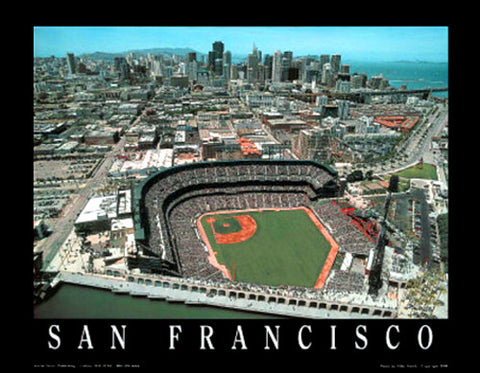 San Francisco Giants AT&T Park "From Above" Poster Print - Aerial Views Inc.
Publisher: Aerial Views, 2000
Size: 22" x 28"
Condition: Brand-New.

Item #: AV-007
---
---
The nicest park in baseball, from high above! This incredible poster, featuring the spectacular aerial photography of Mike Smith, gives San Francisco sports fans a brilliant look at AT&T Park and the downtown skyline. From the China Basin and McCovey Cove in the foreground, to the palm trees beyond the scoreboard in centerfield, to the packed grandstands, to the giant Coke bottle, to the meticulously groomed playing surface, it's all here, in this beautiful print for your wall! For fans of the Giants and baseball in the Bay area, this poster deserves a nice frame and a prominent place at home or office.
Shop for more related posters in these collections:
---
We Also Recommend