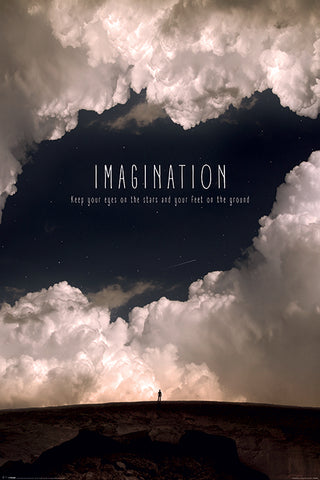 Imagination (Magical Skies, Unlimited Potential) Inspirational Motivational Wall Poster - Pyramid International
Publisher: Pyramid International (UK)
Size: 24" x 36"
Condition: Brand New!

Item #: PP34076
---
---
IMAGINATION
Keep your eyes on the stars and your feet on the ground.
Celebrate the wonders of creation, and the unlimited possibilities of the universe, with this spectacular motivational poster! This amazing piece features a breathtaking scene: a lone young adult standing on the top of an elevated precipice, pondering life as a panorama of mountains, clouds, sky, and stars unfolds before him or her. Perfect inspiration for anyone looking towards the unlimited potential of the future, while keeping the feet firmly planted on the ground!
Shop for more related posters in these collections:
---
We Also Recommend