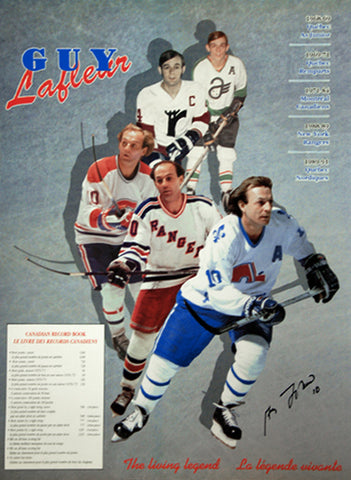 Guy Lafleur "The Living Legend" Career Retrospective (1968-1991) Poster
Publisher: Condition: Brand-New!
Size: 18" x 24"
Condition: Brand-New, Original Warehouse Stock!

Item #: MH065
---
---
Celebrate the legendary career of the great Guy Lafleur! This amazing poster takes you through the entire career of le Demon Blond, with vintage photographic images of Guy in all five of his team uniforms: Quebec Aces (1968-69), Quebec Remparts (1969-71), Montreal Canadiens (1971-84), New York Rangers (1988-89), and Quebec Nordiques (1989-91). With a spectacular "Through the Years" design, a list of his places in the record books, and even a facsimile signature from Guy himself right on the print, this is the ultimate commemorative piece for any fan! A SportsPosterWarehouse.com exclusive, limited quantity remains in stock.
Shop for more related posters in these collections:
---
We Also Recommend