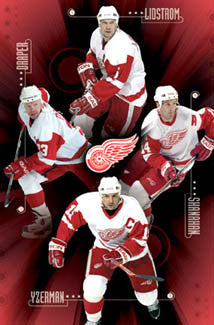 Detroit Red Wings "Big Four" Poster (Lidstrom, Yzerman, Shanahan, Draper) - Costacos Sports 2005
Publisher: Costacos Sports, released October 2005
Size: 22¼" x 34"
Condition: Brand New.

Item #: CN3651
---
---
Have four big-time Red Wings legends come right at you, practically jumping off your wall! With spectacular game-action photography, and a slick team-themed design, this poster features rock-sold defenseman Nicklas Lidstrom, ageless power forward Brendan Shanahan, fan-favorite grinder Kris Draper, and all-time Red Wings legend Steve Yzerman, all looking fantastic in road whites. Three Hall of Famers and a franchise legend - it doesn't get any better than this - a must for your sports wall-of-fame!
Note: this poster is now out-of-print; limited quantity remains in our warehouse.
Shop for more related posters in these collections:
---
We Also Recommend