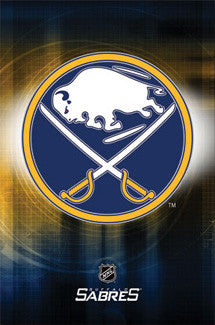 Buffalo Sabres Official NHL Team Logo Poster - Costacos 2010
Publisher: Costacos Sports Inc.
Size: 22.25" x 34"
Condition: Brand New!

Item #: CN8626-10
---
---
Bring your wall alive with the spectacular style, script and colors of the Buffalo Sabres! Amazing design featuring the classic charging-buffalo crosses-swords logo - this official poster is a must for the wall of any fan. Note: this design is now out-of-print; last one left in stock!
Shop for more related posters in these collections:
---
We Also Recommend