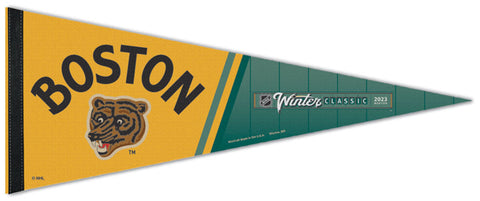 Boston Bruins "Boston Bear" NHL Winter Classic 2023 Premium Felt Pennant - Wincraft Inc.
Publisher: Wincraft Inc., Made in USA!
Size: 12" x 30" Triangular Felt Pennant
Condition: Brand New! Durable "Roll-it-and-Go" Felt Fabric.

Item #: WI-PP-2325
---
---
A rare Bruins style for your wall, from a historic day at Fenway! This amazing pennant was produced to commemorate the Boston Bruins' hosting of the 2023 Winter Classic, held January 2, 2023 at Fenway Park - an all-time Winter Classic classic, won in overtime by the hometown Bruins. Set in the "Green Monster" graphic design style of the day, it highlights the unique throwback "Boston Bear" emblem embroidered on the unique uniform style worn in the game. Part of WinCraft's premium pennant line, the clear and brilliant graphics are printed on a revolutionary soft-and-durable "Roll-it-and-Go" felt that can be tucked tightly away if necessary, and look just as good when unfurled again, ensuring your pennant will continue to look great and last a lifetime. The perfect addition to your collection and your sports wall-of-fame, and a limited-time Bruins item you won't want to miss! Limited quantity available.
Shop for more related posters in these collections:
---
We Also Recommend