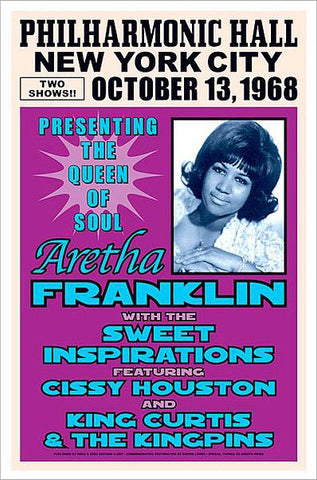 Aretha Franklin Live at Philharmonic Hall, NYC 1968 Concert Poster Recreation - Image Conscious
Publisher: Fotofolio Inc.
Size: 15" x 23"
Condition: Brand New! Printed on premium-quality gallery stock.

Item #: IC-L907
---
---
Philharmonic Hall, New York City
Two Shows!! October 13, 1968
Presenting The Queen Of Soul, ARETHA FRANKLIN
Bring your wall alive with an R&B legend - the unforgettable, irreplaceable, magical voice of a generation, Aretha Franklin! This is a recreation of a concert poster for Aretha's appearance at iconic Philharmonic Hall at Lincoln Center, New York City, on October 13, 1968. Featuring a classic black-and-white promotional shot of Aretha herself, along with the concert details, set in a simple, bold design, this one truly takes you back to a golden age of music and glamour. An iconic American classic; perfect for home, office, coffee shop, or music studio!
Shop for more related posters in these collections:
---
We Also Recommend