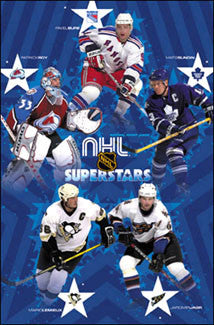 NHL Superstars 2002-03 Poster (Lemieux, Sundin, Bure, Jagr, Roy) - Costacos Sports
Publisher: Costacos Sports, released November 2002
Size: 22¼" x 34"
Condition: Brand-New

Item #: CN3173
---
---
Celebrating six superstars of the 2002-03 season, in a wild retro design! Featuring action shots of five true NHL legends, all on one poster: Patrick Roy (Colorado Avalanche), Pavel Bure (New York Rangers), Mats Sundin (Toronto Maple Leafs), Mario Lemieux (Pittsburgh Penguins) and Jaromir Jagr (Washington Capitals). The perfect way to decorate the wall of any true hockey fan!
Note: this poster is now out-of-print; limited quantity remains in our warehouse.
Shop for more related posters in these collections:
---
We Also Recommend