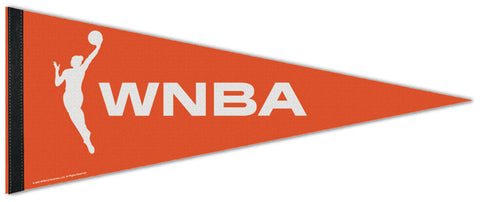 WNBA Women's Basketball Official League Logo Premium Felt Pennant - Wincraft
Publisher: Wincraft Inc.
Size: 12" x 30" Triangular Felt Pennant
Condition: Brand New! Durable "Roll-it-and-Go" Felt Fabric.

Item #: WI-PP-2202
---
---
A must for any women's basketball fan! This brilliant pennant commemorates the world's premier women's basketball league, the WNBA. Featuring the official league logo and wordmark, in a bold orange-background design, this is a true beauty for your decor, and a rare WNBA item for your collection. Part of WinCraft's premium pennant line, the amazing graphics are printed in full-color on a revolutionary soft-and-durable "Roll-it-and-Go" felt that can be tucked tightly away if necessary, and look just as good when unfurled again, ensuring your pennant will continue to look great and last a lifetime. The perfect accent to your sports wall-of-fame, and a must for any serious fan!
Shop for more related posters in these collections:
---
We Also Recommend