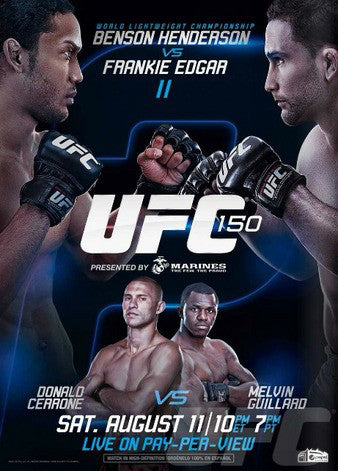 UFC 150 (Henderson vs. Edgar II) Official Event Poster (Denver, CO 8/11/2012)
Publisher: Official UFC Merchandise
Size: 27" x 39" (Full-Sized Fight-Night Poster)
Condition: Brand New!

Item #: UFC-150-BILL
---
---
Bring your wall alive with the official fight bill poster for UFC 150 - the Benson Henderson-Frankie Edgar rematch that once again ended in Edgar's defeat! Featuring awesome graphics, all the event details from the near-sellout night at the Pepsi Center in Denver, Colorado, and promo shots of the combatants in the headline bouts of the evening (Henderson vs. Edgar II, Donald Cerrone vs. Melvin Guillard). Published by the UFC organization, these are the same full-sized promotional posters you've always seen hanging at your favorite bar or restaurant, but were never able to get your hands on for yourself! As an official UFC poster retailer, we are proud to offer these original collector's items to our customers worldwide on a first-come, first-served basis. A red-hot design that is both a beauty for your wall, and a valuable collector's item for years to come! Always a sellout at the venue on fight night; limited quantity remains in our warehouse.
Shop for more related posters in these collections:
---
We Also Recommend