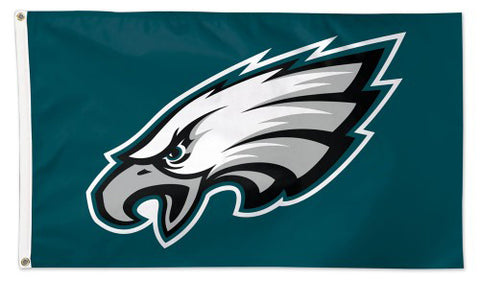 Philadelphia Eagles Official NFL Football Team Logo Deluxe-Edition 3'x5' Flag - Wincraft Inc.
Publisher: WinCraft Inc., Made in USA!
Size: 3' x 5' Flag
Condition: Brand New!

Item #: WI-FLAG-136
---
---
The biggest, boldest way to show your Eagles pride! Own the official team flag of Philly's legendary NFL Football squad with this entry in Wincraft's three-foot-by-five-foot flag collection. With officially-licensed Eagles graphics printed with top-quality color-fast dies on premium domestic polyester, this long-lasting flag comes with super-strong brass grommets for flagpole attachment, or you can simply hang it on the wall for a massive Eagles team-fan display.. You can also fold it up and take with you to the game, and who knows, maybe it will get you on TV! The perfect accent to your home, office, or sports facility, and a must for any serious fan!
Shop for more related posters in these collections:
---
We Also Recommend