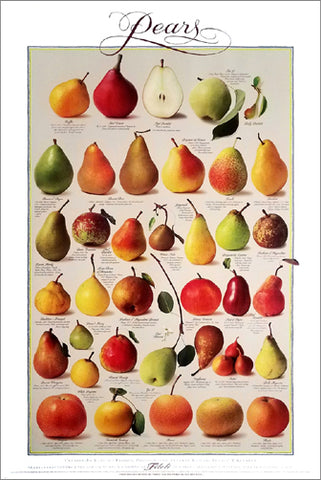 Pears of the Filoli Orchards (36 Varieties) 24x36 Wall Chart Poster - Celestial Arts Inc.
Publisher: Celestial Arts Inc., 1997
Size: 24" x 36"
Condition: Brand New, Original Warehouse Stock!

Item #: BT-7126
---
---
An amazing piece for your wall, featuring the tart, delectable glory of the glorious pear! This spectacular poster features no less than 36 varieties of classic non-genetically-modified pears, all looking great in perfect close-up photography, as found at the legendary Filoli Old Orchards & Gardens in Woodside, California. From Kieffer to Baby Bartlett; Forelle to Beurre; Packham's to d'Anjou; Flemish, Seckel, Belle Angevine, Shinko, and more, this one has it all, with pictures, taste descriptions, history, and usage notes for each variety. Perfect for the wall of kitchen, food service business, restaurant, bakery, or homestead!
Shop for more related posters in these collections:
---
We Also Recommend