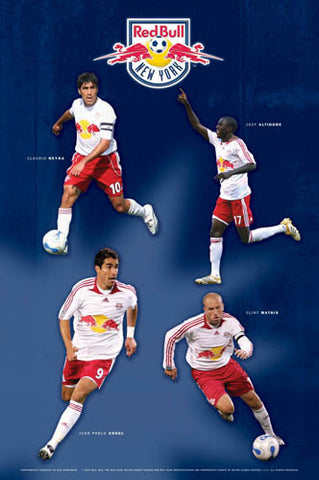 New York Red Bulls "Superstars 2007" - S.E.
Publisher: Sports Endeavors, released August 2007
Size: 23" x 35"
Condition: Brand-New.

Item #: SE-777559
---
---
Commemorate the glory and style of the New York Metro area's amazing MLS squad! This spectacular poster - the first-ever published for the franchise since its name change - features four superstars of the Red Bull New York soccer team, in a brilliant intergalactic design: Team USA all-time legend Claudio Reyna, Colombian dynamo Juan Pablo Angel, hometown teenaged hero Jozy Altidore, and amazing American national team veteran Clint Mathis. A rare item you won't find in stores, and a valuable collector's item for years to come!
Shop for more related posters in these collections:
---
We Also Recommend