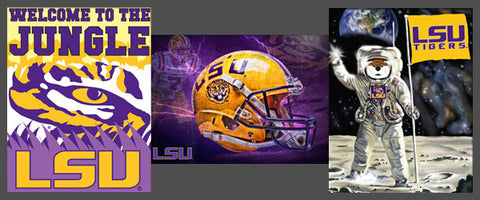 LSU Tigers "Football Spirit" 3-Poster Combo Set - Team Spirit Posters
Publisher: Spirit Towels Inc., Made in USA!
Size: Three Individual Posters, Size 18" x 24" Each.
Condition: Brand New Premium Digital-Process Poster!

Item #: ST-LSUTRI
---
---
Bring your walls alive with the passion and pride of LSU football! With this exciting combo from the wildly creative designers at Team Spirit, you get no less than three spectacular, hot new wall posters featuring the colors, graphics, logos, and icons of the high-flying Bayou program. First, you get "Welcome To The Jungle", a bold and beautiful pop-art design that takes you right inside the Eye of the Tiger. Second, it's "Tiger Pride", featuring the official team helmet design set atop a spectacular purple-lightning background design full of style and action. Finally, you get "Moonwalk", picturing the beloved team mascot Mike the Tiger claiming our planet's orbiting satellite for Tiger Nation! Value-priced together as one in a combo set, you'll save even more on shipping, as they ship together and count as only one item in your cart! A must-have set of posters for any true Louisiana football fan or collector; perfect for home, office, bar, restaurant, dorm room or man-cave!
Shop for more related posters in these collections:
---
We Also Recommend