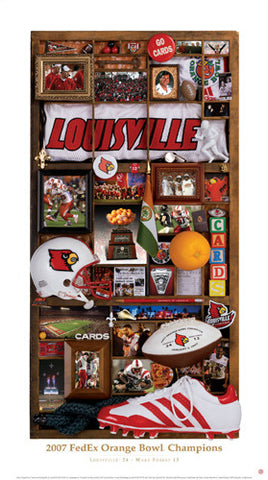 Louisville Football 2007 Orange Bowl Champs "Memories" - Smashgraphix Inc.
Publisher: Smashgraphix Inc., 2007
Size: 19" x 34"
Condition: Brand New! Printed on high-quality gallery stock.

Item #: SMASH-004
---
---
Re-live the memories forever - Louisville's greatest football victory of a generation! Designed and produced by Greg and Scott Scinta, the Kentucky natives behind Smashgraphix, this amazing print features more than 30 different pieces of University of Louisville football memorabilia from the 2007 FedEx Orange Bowl, placed perfectly in a vintage memory box, and photographed expertly for maximum effect. A beautiful piece that is equally suitable for a garage door or a corporate boardroom wall, it features all the great stars of the team that reigned supreme in Miami, including Amobi Okoye, William Gay, Kolby Smith, Nate Harris, Jimmy Riley, Michael Bush, Tom Jurich, Coach Bobby Petrino, and even honorary captain Muhammad Ali! Complete with a slick white border that includes the title "2007 FedEx Orange Bowl Champions - Louisville 24 Wake Forest 13", this is both a spectacular work of sports art for your wall, and a valuable collector's item for years to come! Limited to just 2,500 prints before it is retired forever - don't miss your chance at adding this one to your wall and your collection.
Shop for more related posters in these collections:
---
We Also Recommend