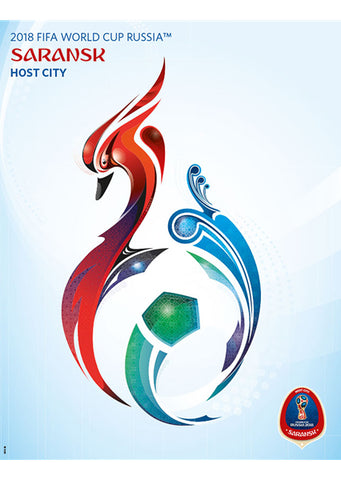 FIFA World Cup 2018 Russia Official Host City Poster (Saransk) - Sports Endeavors
Publisher: Officially-Licenced FIFA Product
Size: 23.5" x 29.75"
Condition: Brand New!

Item #: WC-2018-SARANSK
---
---
Bring your walls alive with the sites, styles, and action-packed moments of Russia's magnificent football festival of 2018! SportsPosterWarehouse.com is proud to offer the official Host City posters of FIFA's 2018 World Cup tournament in the Russian Federation. Imported from FIFA's officially-licensed publisher, this is from the breathtaking series of 11 official host city posters, using the iconography, colors, and unique style of the country's art and design to bring alive something unique and action-packed about each locale. This is the official poster of Host City Saransk, capital city of the Republic of Mordovia, and home of the brand-new Mordovia Arena. The iconography here incorporates the soccer ball with the mythological Mordovian "Bird of Creation". Whether you attended the tournament, are a fan of the beautiful game, or are simply a soccer fanatic looking for a valuable display piece for your wall and collection, this is for you. Imported exclusively in limited quantity, we are making these posters available on a first-come, first-served basis to our customers around the world. Don't miss out - grab yours now, while you still can!
Shop for more related posters in these collections:
---
We Also Recommend