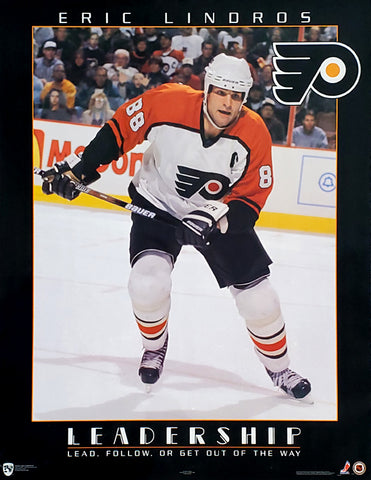 Eric Lindros "Leadership" Philadelphia Flyers Motivational Poster - Norman James Corp. 1998
Publisher: Norman James Corp., 1998
Size: 22" x 28"
Condition: Brand-New, Original Warehouse Stock!

Item #: MH078
---
---
A 1990s hockey classic! From Canadian publisher
Norman James Corp.
, this rare poster features an amazing action shot of "The Big E", Eric Lindros of the Philadelphia Flyers during the prime of his NHL career, and the motivational message: "Leadership: Lead, Follow, or Get Out of the Way". A vintage collector's item for any fan of Lindros and the Flyers; and a brilliant inspirational message sure to help anyone rise to new heights! 
Note: this poster is now out-of-print; limited quantity remains in our warehouse.
Shop for more related posters in these collections:
---
We Also Recommend