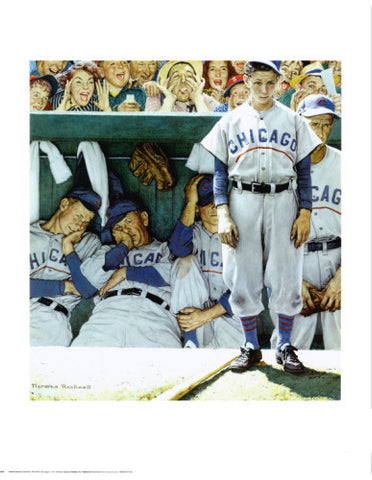 Classic Baseball "The Dugout" by Norman Rockwell Premium Poster - Shorewood Fine Art
Publisher: Shorewood Fine Art Reproductions
Size: 22" x 28"
Condition: Brand-new.

Item #: SH1813
---
---
A baseball classic from America's most beloved folk artist! Entitled "The Dugout", this famous piece was originally published as the cover art for the September 4, 1948 issue of the Saturday Evening Post, and perfectly captures the feeling of being a losing road team in hostile territory. As a franchise on the decline in the late 1940s, the Chicago Cubs were the perfect target for Rockwell's inspired art - little did he know, the Cubs would feel little but dejection for the rest of the 20th century. Forget the curse of the Billygoat...the Cubs may be a victim of Rockwell's hex!
This gallery-quality reprint is the only full-sized Dugout litho currently on the market. Perfect for the home or office of any Cubs fan, Rockwell enthusiast, or baseball lover with a more mature, refined sense of style!
Shop for more related posters in these collections:
---
We Also Recommend