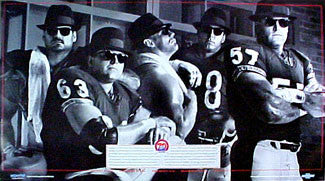 Chicago Bears "Big Five" Offensive Line Poster - WGN/Chevy 1989
Publisher: WGN Radio and Chevy, 1989
Size: 20" x 36"
Condition: Brand-New, Original Warehouse Stock!

Item #: MF077
---
---
"Although it may be true that most games are won or lost in the trenches, what brings crowds to their feet isn't a great block, but the resulting 35 yard run. It's not the pass protection that makes them roar, but the 60 yard pass reception. Unfortunately, about the only time the offensive line rolls up yardage is when they apply the tape that holds together everything from broken fingers and cracked ribs to twisted knees and separated shoulders. But while tape holds together the line, it's been the line that's held together the Bears. Through a Super Bowl victory and five division championships, they've been the team's driving force; the single unrelenting source of inspiration. Back in 1985, we featured them in what has now become a classic sports portrait. Since then, little has come between them. Now we've assembled these five once more, as they were then. Because, remarkably, they are still together. Still hungry. And still putting it on the line."
A true poster classic! Bears fans, this is a must for your wall. Featuring the Big Five of the 1980s: Jim Covert, Jay Hilgenberg, Mark Bortz, Keith Van Horne and Tom Thayer. Originally produced as a Chicagoland Chevy dealers promotion. Limited quantity remains in our warehouse.
Shop for more related posters in these collections:
---
We Also Recommend