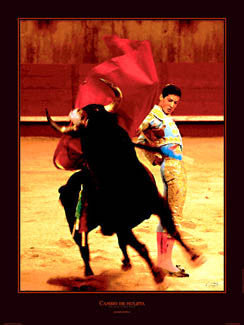 Bullfighting in Spain "Cambio de Muleta" (Cesar Jimenez) Premium Poster Print - Pecheur 2004
Publisher: Pecheur d'Images, 2004
Size: 23½" x 31½"
Condition: Brand-new.

Item #: PE-60CBMUL
---
---
Cambio de Muleta
César Jimenez
photographie Cyril Bussat
Capturing the action, color, beauty, and daring, of the unique sport of Spain! This spectacular print, entitled "Cambio de Muleta", features young superstar bullfighter César Jimenez in action, thrilling the crowd with his incredible danse macabre. Printed on high-quality gallery stock, and reproduced in ultra-vivid colors using a watercolor-style photographic effect, this is the ultimate piece for the wall of any fan of bullfighting!
Shop for more related posters in these collections:
---
We Also Recommend