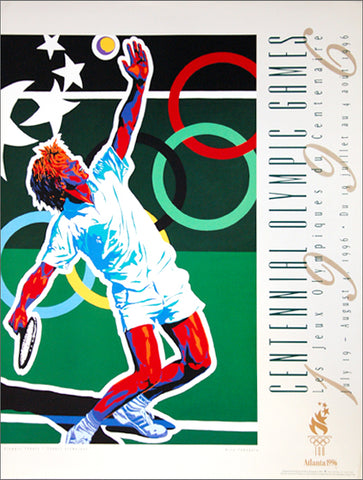 Atlanta 1996 Olympics Tennis Official Event Poster by Hiro Yamagata - Fine Art Ltd.
Publisher: Fine Art Ltd., St. Louis, 1996
Size: 18" x 24"
Condition: Brand New! Printed on premium-quality gallery stock.

Item #: FA026
---
---
Add a splash of history, action, and athleticism to your wall and your collection! From artist Hiro Yamagata's exquisite poster series promoting events at the 1996 Atlanta Olympics, this poster features sharp vibrant tennis art, and a sophisticated poster design. A great commemoration of an amazing American gold medal sweep, after dominating performances by Andre Agassi and Lindsay Davenport! Perfect for the wall of the tennis enthusiast who wants something unique for the wall of home, office, or clubhouse.
Note: This poster is now out-of-print; limited quantity remains in our warehouse
.
Shop for more related posters in these collections:
---
We Also Recommend