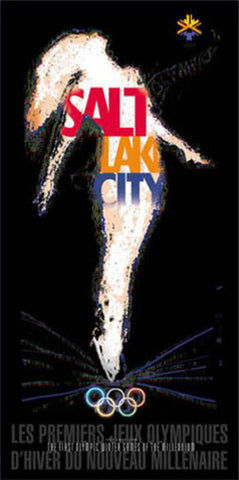 Salt Lake 2002 Winter Olympics Figure Skating Official Poster by Primo Angeli - Fine Art Ltd.
Publisher: Fine Art Ltd., St. Louis, released September 1999
Size: 19" x 39"
Condition: Brand New! Printed on premium-quality gallery stock.

Item #: FA017
---
---
Stunning design from artist Primo Angeli, featuring the beauty of Figure Skating and the glory of the Olympic Games! Part of Fine Art Ltd.'s officially licensed collection of Salt Lake 2002 posters. Bottom reads "The First Winter Games of the Millennium", superimposed over the French translation ("Les premiers jeux olympiques d'hiver du nouveau millenaire"). Amazing piece for fans of figure skating and the Olympic movement, and a big, bold statement for your wall!
Note: this poster is now out-of-print; limited quantity remains in our warehouse.
Shop for more related posters in these collections:
---
We Also Recommend