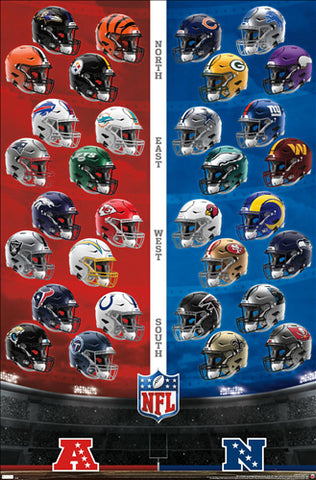 NFL Football Logos Official Wall Poster (All 32 Team Helmets) - Costacos Sports
Publisher: Costacos Sports Inc.
Size: 22.25" x 34"
Condition: Brand New, Made in USA!

Item #: CN22538-22
---
---
All 32 team logos, on one poster! This poster, a must for the wall of any true NFL fan, features the official helmet logo designs of all NFL squads in their divisional alignment, with all helmets and logos updated for 2022 (including the first appearance for the Washington Commanders). A rare poster you'll likely never find in stores! A must for the wall of any true football fan, and the perfect addition to your sports wall-of-fame! 
Logos Featured: Indianapolis Colts, Jacksonville Jaguars, Tennessee Titans, Houston Texans, Las Vegas Raiders, Los Angeles Chargers, Kansas City Chiefs, Denver Broncos, New England Patriots, Miami Dolphins, New York Jets, Buffalo Bills, Cleveland Browns, Baltimore Ravens, Cincinnati Bengals, Pittsburgh Steelers, San Francisco 49ers, Seattle Seahawks, Los Angeles Rams, Arizona Cardinals, New Orleans Saints, Tampa Bay Buccaneers, Carolina Panthers, Atlanta Falcons, New York Giants, Philadelphia Eagles, Dallas Cowboys, Washington Commanders, Detroit Lions, Green Bay Packers, Minnesota Vikings, Chicago Bears.
Shop for more related posters in these collections:
---
We Also Recommend