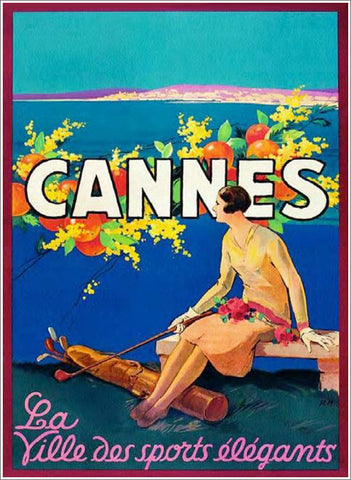 Cannes, France "City of Elegant Sports" (Artist Sem c.1930) Woman Golfer Vintage XL Poster Reproduction
Publisher: Pro-Artis Publishing, Paris, France
Size: 27.5" x 39.5"
Condition: Brand New! Printed on premium-quality gallery stock.

Item #: PRO-ART-10023
---
---
Bring your wall alive with a truly elegant sports poster! This amazing poster was originally published in 1930 to promote travel to the upscale Mediterranean resort town of Cannes. Featuring the work of legendary artist Sem (Georges Goursat, 1863-1934), it takes you to a coastal hole on a golf course, with a young female player enjoying the scenery as she awaits her tee. With the title "La Ville des sports elegants" (The City of Elegant Sports), and iconic CANNES lettering, this truly brings to life the style and attitude of the Art Deco era in Europe. This spectacular oversized edition will fill a nice, large spot on your wall with the vibrant color and glorious simplicity of this true classic! A stunning piece that will jazz up the wall of your home, office, cafe, restaurant, chalet, or golf clubhouse.
Shop for more related posters in these collections:
---
We Also Recommend