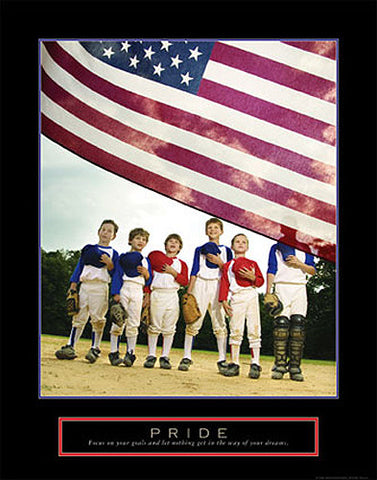 Baseball "Pride" Patriotic Inspirational Poster - Front Line
Publisher: Front Line Art Publishing
Size: 22" x 28"
Condition: Brand New!

Item #: F102425
---
---
PRIDE
Focus on your goals and let nothing get in the way of your dreams.
It's as American as Apple Pie - Baseball, the National Pastime! This spectacular poster celebrates the unique pride we take in our country and our sport, featuring a look at a group of young players honoring the flag by singing the national anthem before a little league game. Perfect for the wall of home, office, classroom or clubhouse, this poster is sure to inspire any athlete to new heights, and is certain to represent the idealism and pure joy of being young and vibrant in the USA!
Shop for more related posters in these collections:
---
We Also Recommend