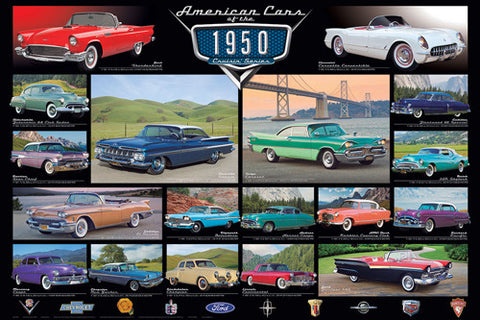 American Cars of the 1950s (18 Classic Automobiles) Cruisin' Series Poster - Eurographics Inc.
Publisher: Eurographics Inc.
Size: 24" x 36"
Condition: Brand New!

Item #: EU2450-0676
---
---
Celebrating a legendary decade in American automobile history! This spectacular poster, from a series of four decade-specific "Cruisin' Series" collages (1930s, 40s, 50s and 60s), features no less than 18 classics from the 1950s, when the post-war boom reached its incredible heights. Includes: 1957 Ford Thunderbird; 1953 Chevrolet Corvette Convertible; 1950 Oldsmobile Futuramic 88 Club Sedan; 1957 Pontiac Star Chief; 1953 Cadillac Fleetwood 60 Special; 1953 Buick 76X Skylark; 1959 Chevrolet Impala; 1959 Dodge Coronet; 1958 Cadillac El Dorado; 1959 Plymouth Belvedere; 1953 Hudson Hornet Coupe; 1955 AMC Rambler Country Club; 1954 Packard Pacific; 1950 Mercury Coupe; 1957 Chrysler New Yorker; 1951 Studebaker Champion; 1956 Lincoln Continental; and 1957 Ford Fairlane 500. Spectacular photography of awe-inspiring classic cars, awesome classic-style graphics, and the original logo emblems of the car companies of the era, this one has it all! A must for the wall and collection of any true classic car lover; perfect for home, office, garage, showroom, or museum!
Shop for more related posters in these collections:
---
We Also Recommend