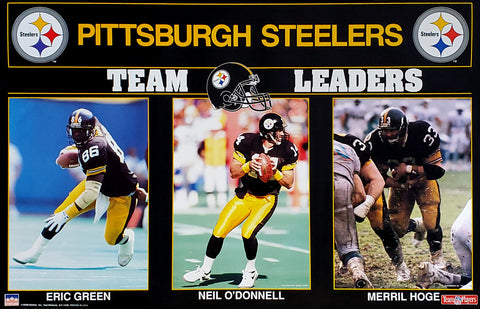 Pittsburgh Steelers "Team Leaders 1992" Poster (Eric Green, O'Donnell, Merril Hoge) - Starline Inc.
Publisher: Starline Inc., 1992
Size: 22¼" x 34½"
Condition: Brand-New!

Item #: SC193
---
---
Here's a rare classic for you! From the early 1990s era comes this "Team Leaders" poster, featuring amazing action shots of the three top stars of the era - Eric Green, Neil O'Donnell, and Merrill Hoge. A rare vintage poster to round out that collection! Perfect for the wall of any true lifetime Steelers fanatic. Note: this poster is now long out-of-print; limited quantity remains in our warehouse.
Shop for more related posters in these collections:
---
We Also Recommend